Favorite Links:
The following is a list useful links. Enjoy!
Look up things to assist in your studies.
Find a quick outline of each book in the Bible along with links to additional BIble studies.
Find Hebrew words and translations.
Bible studies and other resources
King James Words Defined.
Complete Bible Search, Concordance, Commentaries, Versions and other helpful study tools.
On The Radio.Net
was created to help people find phone numbers and websites for commercials they heard on the radio.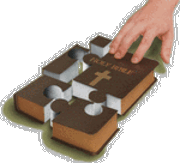 Inspirational preaching from a messenger of the gospel!
Free Health Care Providers.
Free Christian Parenting Courses