Youth Programs
Jesus said, "Let the little children come unto me..." (Matthew 19:14).
So here at Mount Carmel Christian Church we have youth progams for children of all ages:
Jesus and Me (J.A.M.) for ages 3 - 13
Venturing for teens and young adults.
Check out the information on their pages to see what they are up to, into and all about.
____________________________
Jesus and Me (JAM): ages 3 -13
Jesus and Me is a Bible-based program designed to teach our children who God is, why his Son came to earth as a man, died in our place and was raisedto life again so that we might have eternal life. J.A.M. incorporates a wide variety activities to teach this message, including: music, arts/crafts, drama, games, and more. For more information about what's currently going on in "God's Big Back Yard", click the picture below.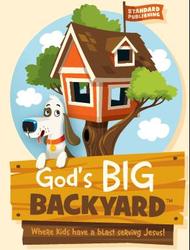 Venturing: ages 14 to 20
Venturing is a high-adventured based program for teens and young adults that uses activites like camping, hiking, backpacking, whitewater rafting, cpr/first aid, rock climbing & rapelling, and much more to teach solid Christian values and relevant life lessons from the Bible. WARNING: do not expect to come to Venturing and sit on your rear end. This is real adventure and real lessons for real life.
Click the pic below to go to the Venturing page.